Whether your plans include picnicking, camping, or a humble barbecue at a bestie's house, it's never a bad idea to show up prepared. And by prepared, we mean ready to create the most delicious, delectable, and irresistible cocktails your friends and family could possibly imagine. From ready-to-drink mixed cocktails to fun, easy-to-pack snacks, we've got everything you need for a fully stocked, totally Delish bar to go that will impress every cocktail enthusiast you know.

Pack The Right Supplies
Before you start setting things up, you'll need a great cooler bag to keep everything chilled and organized. We love this soft-sided one from Yeti because it comes in plenty of fun colors and sizes. You'll need a few tools as well: A collapsible shaker is made for exactly this purpose, as is this picnic knife, which includes a serrated blade (fresh citrus, anyone?), a bottle opener, and a corkscrew. And to keep everyone's drinks cool, stock up on multicolored cooler sleeves, or go high-tech with a few insulated Frost Buddies.
Mixed Cocktails Anywhere
You can now bring the whole bar with you in one streamlined container, thanks to ready-to-drink cocktails that are perfectly mixed before you even crack open the can.
Cîroc's line of tasty Vodka Spritzes—available in Watermelon Kiwi, Sunset Citrus, Pineapple Passion, and Colada—are perfect after a hot day in the sun. Just open up the camping cooler and relax, no effort required.
Crown Royal's clean and crisp ready-to-drink cocktails are available in four flavors—Peach Tea, Washington Apple, Whisky and Cola, and limited-edition Whisky and Lemonade. They're a tasty and divine treat, sure to wow even the casual imbiber.
For something light and playful, try Loyal 9's lemonades. They're made from vodka and real lemons and come in three flavors: Lemonade, Mixed Berry Lemonade, and Lemonade + Iced Tea. This nostalgic drink will take you back to a sweeter time.
Ice, Ice, Baby
Keep everyone's beverages extra-cold with the kind of cubes that won't melt. Whiskey stones, made of stainless steel, are endlessly reusable and can be tossed right into your cool-as-a-cucumber bar bag.
Don't Forget The Snacks
What's a drink without nibbles, after all? Some of our faves are Island Creek tinned fish, salty Castelvetrano olives, and the perennial favorite, roasted peanuts. Bring a wooden cutting board for serving, and you'll be the star of the bar-ty.
Did Somebody Say "Tequila"?
For hot spring and summer days, don't forget to pack a bottle of Don Julio blanco, a versatile, gluten-free tequila that tastes as good in a margarita as it does ice-cold on the rocks with a lime. Keep the bottle chilly, and don't forget to shake the drinks on ice before serving.
Mixer-ology
Every good bartender knows it's all about those mixers. Fill your portable bar with the coolest NA bevvies for mixing, matching, and sipping, such as Sanzo Lychee sparkling water, Fever-Tree Ginger Ale, and La Colombe Nizza coffee.
The Creamiest Spirit Around
Warm nights by the campfire are only made better by a coffee-based drink. So the ultimate mobile bar definitely requires a bottle of Bailey's Original Irish Cream. Bring along the Wacaco Minispresso GR, too, and you've got everything you need for a Bailey's-and-coffee beneath the stars.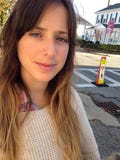 Hannah Selinger is a lifestyle writer, sommelier, and mother of two based in East Hampton, NY. Her IACP Award-nominated work has appeared in The New York Times, The Washington Post, Wine Enthusiast, CNN Travel, Eater, The Wall Street Journal, Architectural Digest, Curbed, Slate, The Cut, and elsewhere.