The Native American Food Brands Everyone Should Be Shopping
Indigenous online marketplaces take "shop local" to a new level.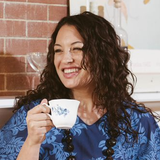 By Megan Ulu-Lani Boyanton
As shoppers place more thought into what ingredients sit in their kitchens and where their money is spent, Native American online marketplaces offer quality products made by the earth's first stewards.
Three big players in the space include Tocabe Indigenous Marketplace, Sweetgrass Trading Co., and Native Harvest Ojibwe Products.Sweetgrass Trading Co.—owned by the Winnebago Tribe of Nebraska—was launched in 2013 as an online store featuring Native-made products. During the pandemic, account and brand manager Molly Roe noticed an emerging trend."People started to shop more conscientiously," Roe said, pointing to the rising popularity of sage as an example. "Supporting Native businesses when purchasing products like that became more important."
She advised consumers to learn more about the cultural significance of Indigenous ingredients, like wild rice, and experiment with them in their cooking. "That's a really good way to honor the land that you're living on and the traditions of the local tribes," said Roe, who belongs to the Ioway Tribe of Kansas and Nebraska.
Established in 2021, Tocabe Indigenous Marketplace is making a splash as a relative newcomer. "Really, the catalyst [for the new venture] was Covid," said co-owner Ben Jacobs. But he and co-owner Matt Chandra had already racked up years in the Native food industry, running two Denver-area locations of their restaurant, Tocabe.
The online marketplace allows the pair to further support Native food production and promote access to Indigenous ingredients, Jacobs said. His overarching goal for Tocabe Indigenous Marketplace is to be a "one-stop shop for everything Native food."
Jacobs, who's part of the Osage Nation, pointed to a trend among Indigenous producers. "We're getting a lot more food producers now that are actually trying to push their ingredients to market," instead of staying local, he said.
At Tocabe Indigenous Marketplace, the current best-sellers include maple syrup, olive oil, and cornmeals, such as the blue corn pancake mix. Later this year, the team plans to launch a butcher box, which will consist of frozen cuts of bison, beef, fish, and sausages, like elk.
Jacobs encourages people to not only consider the quality of a product, but also how it was sourced.For instance, he can purchase bison meat from a slew of sellers. But with so many Native bison ranchers, he pushes customers to actively find "a supplier that you believe in, especially when it comes to traditional ingredients."
Both online marketplaces outlined plans to expand their inventories in the future. But the below items are sure to satisfy shoppers, whether they're buying Native for the first time or already prioritizing it on their grocery lists.
Advertisement - Continue Reading Below
Advertisement - Continue Reading Below

Contributing Writer
Megan Ulu-Lani Boyanton works as a business reporter at The Denver Post. For two years, she chased after lawmakers on Capitol Hill as Bloomberg Government's agriculture and trade policy reporter. Megan has covered the Venezuelan refugee crisis in Peru, parliamentary affairs in England, White House press briefings in Washington, D.C., and midterm elections in Arizona.